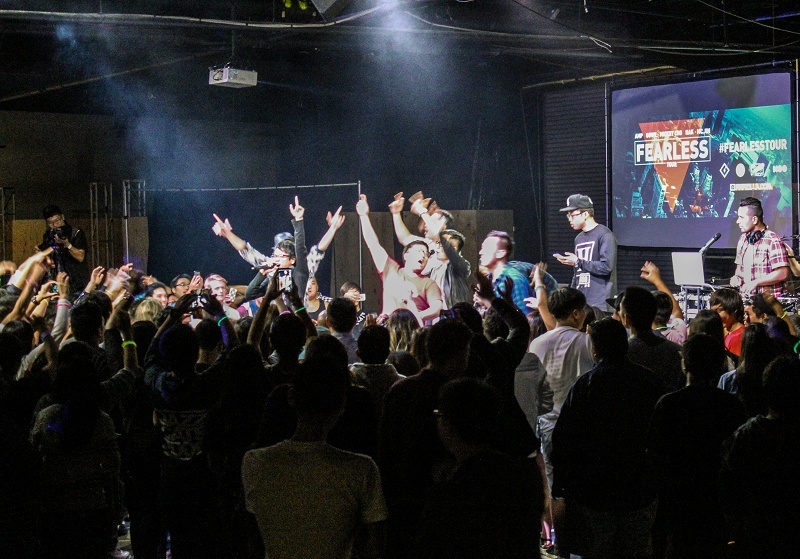 Engaging culture is a concept that pervades the modern Christian music industry. This past Saturday, several artists attempted to convey the Christian message of Christ's love through their rap. Good Fruit and RE:NEW ministries collaborated to organize the "Fearless" concert. A couple hundred young students, who were predominantly Asian, attended the event.
MC Jin, NAK, AMP, Mickey Cho, and Gowe performed at Newsong Church in Irvine, California as part of their "Fearless" tour, with artist Hillary Jane opening for them. DJ Descry supplied the majority of the beats and music throughout the concert.
In an interview, Chung Lee of AMP explained the theme of fearlessness in his own career. "There are stereotypical barriers to get into the arts; people inside the church might believe that we need to compromise in order to become successful in the arts," he said.
"All artists take a risk in pursuing their passions "¦ To live out any calling from the Lord, you have to be fearless."
MC Jin stressed authenticity in the Christian walk. "I hope I can love them the way God called me to. Love is most evident when it's inconvenient," Jin said about the audience.
NAK was the first on stage. The majority of the audience, teenagers and young adults, gathered around the center stage as the artist performed. His songs were about the grace of God and about having an identity based in the omnipresence of God. His glasses came off mid-performance, but he continued to jump around the stage and finished his performance.
After NAK, Mickey Cho came onto the stage with loud applause from the audience. Cho emphasized the fearlessness that comes with having an identity in Christ, and that fear is cast out in love. "I believe God is raising up a generation who will live for His kingdom," Cho said.
Cho ended his performance by addressing a serious problem in human rights around the world. His last song, "Not for Sale," was about sex trafficking. He kept repeating, "Her life is worth more than that," as the crowd followed after him. He hopes to see sex trafficking end in his lifetime.
Gowe was next on stage. His songs were on a more personal level and exhibited practical applications of Christ's love in life. "I was told that if you were blessed with a gift, the most selfish thing you can do is pretend it doesn't exist," Gowe said during the concert. The artist then shared his own search for a future wife and his commitment to purity and waiting. "We live in a culture of instant gratification, so the concept of waiting for a future spouse is a little unusual," he said.
He also shared an intimate song in which he raps about his biological mother, whom he has never met. At the age of 18 Gowe found out he was adopted. The song expresses forgiveness and love that Gowe has for his mother who gave him up for adoption when he was a baby.
AMP then took the stage. The group of three gets its name from the desire to "amplify Christ." Their songs involved a more familiar worship style and the crowd sang along to their songs. Chung even shared the gospel in the middle of their performance set. "I will live to make you known across the earth," sang AMP in one of their songs.
The last performer was MC Jin. Perhaps the most famous of the performers, Jin was welcomed with a multitude of applause. Before the performance, Jin told Christianity Daily, "It's a tricky thing to engage culture. I want my music to be organic, but effective. I am coming into what that means."
MC Jin's songs ranged from being explicitly about God to other personal songs. "This tour is about one thing: worship. We just worship in a different way," Jin said while on stage. "We want you here, we want you near, we welcome you with open arms," were the lyrics to one of Jin's songs. He then performed a song that was dedicated to his two-year-old son, whom Jin was excited to see back at home after the concert. In the middle of his set, Jin had a freestyle session in which he asked for four different words from the audience and rapped about all of them in an improvised performance--while spinning in a chair.
The night ended with all the performers participating in one final song, encouraging the audience to be bold and fearless in Christ's love.