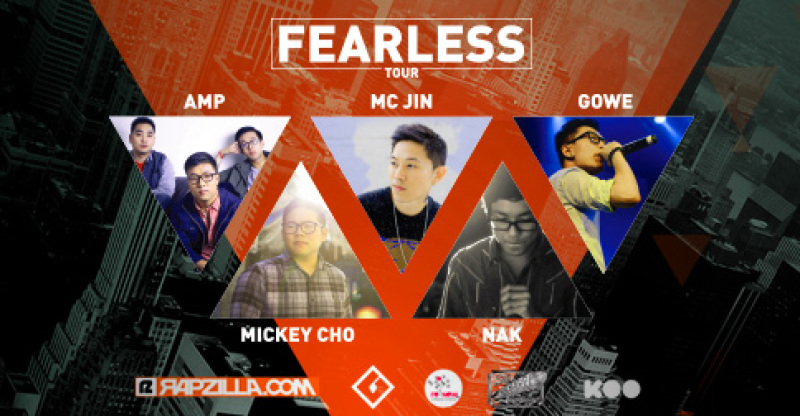 Asian American hip-hop artists AMP, Mickey Cho, Gowe, NAK, and MC Jin will all be performing together on stage for the first time during their upcoming "Fearless Tour," during which they will be performing in two locations in southern California; northern California; Virginia; and Maryland, "with the hope of exemplifying the idea of being fearless."
The co-hosts of the Irvine, CA performance""RE:NEW, a youth and young adult movement; Good Fruit Co., which seeks to engage today's culture with influential media; and the Great Company, which desires to build a sustainable platform for artisans""decided on the theme "Fearless' together, said Phoebe Ng, the project manager at RE:NEW.
"We felt that the theme of being "Fearless' was important because we want Asian American youth and young adults to not be ashamed of their gifts and talents, or hide them under a rug," she said.
Through the use of hip-hop music, the organizers of the tour hope to give the audience courage so that they themselves could use their gifts and talents boldly to be a positive influence on the world.
In accordance with the theme, organizers held a talent competition prior to the concert, during which people had the opportunity to submit a piece of their artistic talent. After a process of selection by voters and an evaluation by the performers at the Fearless Tour, the winner that has been selected for each region will be the opening performance of their respective concerts during the Fearless Tour.
A portion of the proceeds in the Irvine, CA performance will also go to RE:NEW's ministry, which pursues the same purpose - to equip youth and young adults to use their God-given gifts and live with purpose""through various methods such as seminars, conferences, workshops, and yearly magazine publications.
Chung Lee, who is a part of AMP and is also the CEO and co-founder of Good Fruit Co., said that one of the ways that this co-hosting relationship had started was because of this similarity in their mission and purpose.
"We reached out to RE:NEW because not only did we have a similar mission, but seeing their ministry and the connection we already had, there was a sense of trust and like-mindedness," Lee said. "We felt RE:NEW could play a significant part in the tour. We were honored that RE:NEW agreed to be on board and it has been nothing less than exceptional serving together with them."
The performers""AMP, Mickey Cho, Gowe, NAK, and MC Jin""are hip-hop artists from various regions in the U.S, and many of these artists' work feature lyrics that point to the gospel and biblical truths.
Performances will be on October 24 in Alameda, CA; October 25 in Irvine, CA; November 14 in Centreville, VA; and November 15 in Germantown, MD. For more information, visit www.renewtheresponse.org/event/fearless-tour/.