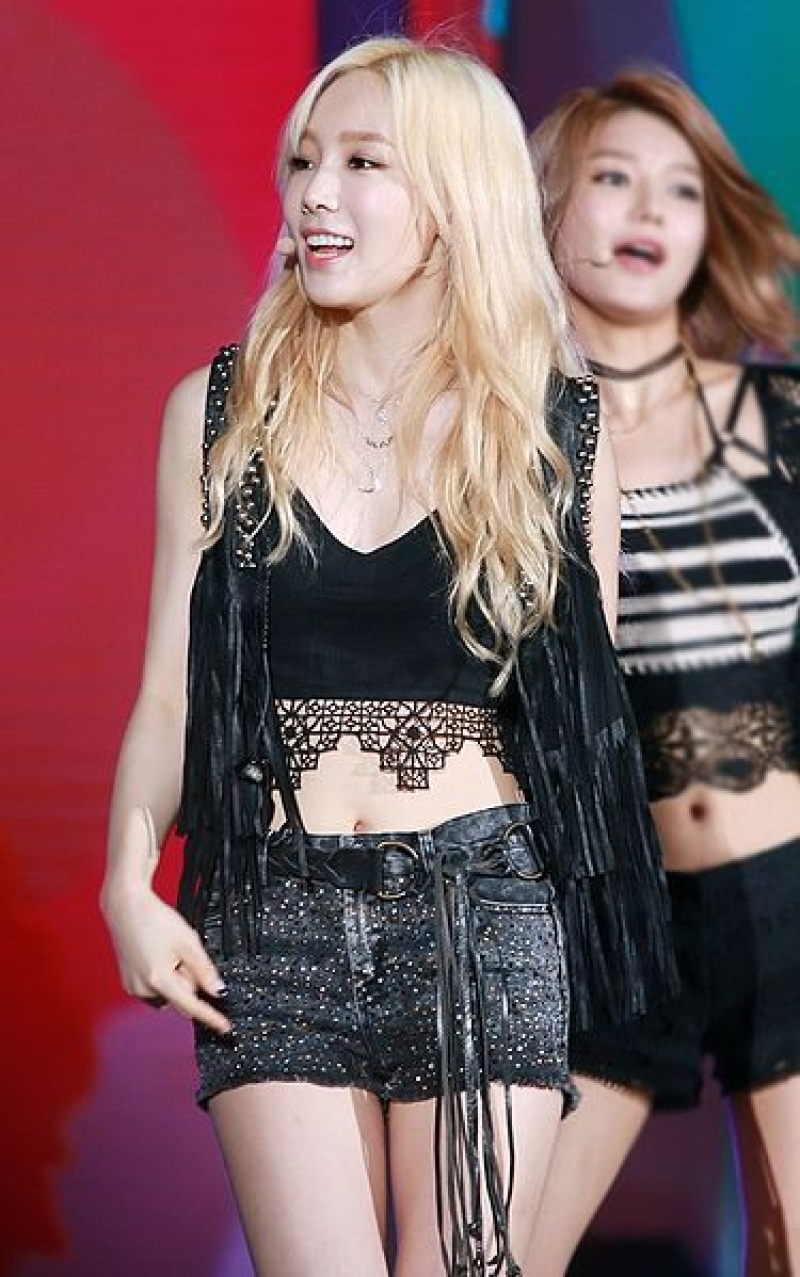 Taeyeon Kim and Baekhyun Byun officially broke off their 14-month relationship on Tuesday, Sept. 15, 2015. Taeyeon, the leader of Girls' Generation and Baekhyun, a main vocalist of EXO apologized to their fans on separate Instagram posts.
Taeyeon, 26, stated the reason behind the breakup was due to both of their busy and demanding schedules. Taeyeon is currently promoting SNSD's fifth studio album, "Lion Heart," while preparing to debut her first solo album in Oct. 2015. Baekhyun is promoting EXO's second album, "Exodus."
Girls' Generation, also known as SNSD is an eight-member girl group which formed in 2007 with S.M. Entertainment. SNSD's subgroup is called TaeTiSoo (TTS), a group of three members: Taeyeon (26), Tiffany (26), and Seohyun (24).
S.M. Entertainment, which also manages EXO is being sued by three former members of EXO-M. Kris, Luhan, and Tao filed separate lawsuits to cancel their existing contracts with the company. While originally made up of twelve members, the group currently performs with nine members.
Baekhyun and Taeyeon's relationship began as two colleagues working under the same management company. Baekhyun made a cameo appearance in TTS' 2012 music video for "Twinkle." Their relationship budded into romance two years later after they began developing feelings for each other.
"After becoming close as colleagues, the two started dating," stated SM Entertainment in June 2014.
Taeyeon's Apology to Fans:
"SONEs. You were very shocked and hurt today because of me, right? I'm very sorry for making you feel things you should not have had to feel. I'm sorry for the article that came out today because I was not more careful. I really want to apologize. I'm really sorry for hurting you.
I think you felt many different things such as disappointment, anger, hatred, frustration, and dejection. I can accept all of that and I want to apologize because, it might just be me thinking this way, but you must have liked, trusted, and supported me as well as put effort and strength just as much.
I want to speak to you in the hopes that you would stop hurting at least one day earlier. I did not post these [Instagram posts] with that intention at all, but there seem to be people who believe that I had fun putting up blatant pictures on Instagram or that I mocked the fans. So I wanted to get my words in, that that was not my intention or goal at all."
Baekhyun's Apology to Fans:
"Hello, this is Baekhyun. Although it's very late.. I'm leaving these words here to tell all the fans that I'm sorry for the disappointment and pain I've given you.
I have written and erased my words many times, but I felt as if I was just putting out excuses and did not have the courage to express my heart and resolve the misunderstandings.. I also thought that saying those words now would also be meaningless.. So even now, I'm worried and my heart is uneasy that you might be hurt again because of this post and that I might regret putting this up.. However, I really wanted to express my sincere feelings so I'm writing these words.
I'm very sorry that I caused pain to fans who have always been precious to me. And I'm once more sorry that I hurt you again through the misunderstandings that have come about within this situation. I wish that.. our fans will no longer hurt.. Although I'm really lacking, I will do my best to slowly approach all of you again.. And EXO is a name that is so precious to me. I want to tell you that I've never thought of EXO lightly."