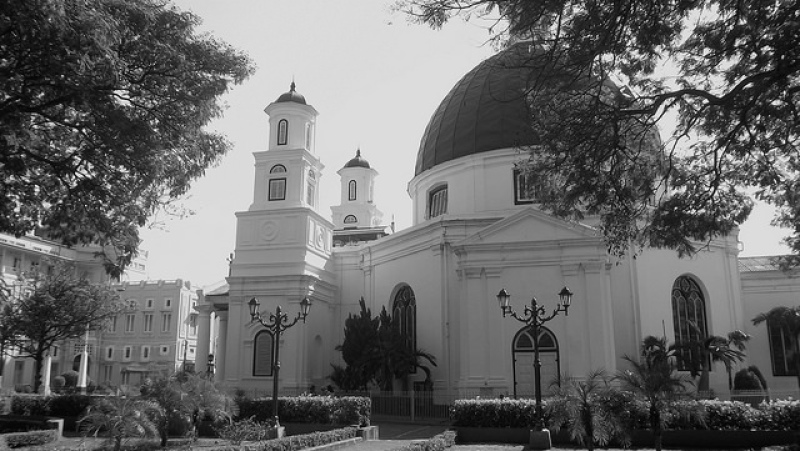 An Indonesian law to promote "religious harmony" has caused the closure of over 1,000 churches since 2006, and pose significant hurdle in the opening of many new ones, according to recent reports.
The law passed in 2006 requires minority religious groups to secure 60 signatures of local residents of another faith, and a written recommendation from local authorities, before obtaining permits to build worship houses.
Last month, the Indonesian authorities tore down many churches in Aceh region, where Sharia law is being practiced, followed by a series of mob violence that targeted Christians.
Religious leaders were reported to have spurred the local people to march against churches and demolish them.
"We will not stop hunting Christians and burning churches. Christians are Allah's enemies!" said the text messages circulated by the Muslim leaders in the Aceh region, according to a report by Gatestone Institute.
On October 12, local government officials in Aceh met with Islamic leaders and approved a plan to demolish 10 unregistered churches, over a period of two weeks.
But a mob of about 700 Muslims tore down a local church the very next day, even though it was not on the list of churches that were to be demolished. No action was taken to apprehend the perpetrators.
In the ensuing violence against Indonesian Christians, about 8,000 were displaced from their homes, who fled to the neighboring provinces.
"It shows the failures of the religious harmony regulation. It discriminates [against] minorities, thus making way for the majority, mostly Muslim hard-liners in Indonesia, to pressure the government to close down churches. If the government refuses, they will take the discriminatory law into their own hands," Andreas Harsono of Human Rights Watch told Foreign Policy.
Persecution against religious minorities has been reported for the last many years in the Muslim-majority country, where Christians do not have it easy.
"We are constantly having to change our location because our existence appears to be unwanted, and we have to hide so that we are not intimidated by intolerant groups," a church spokesman told the Gatestone Institute about three years ago. "We had hoped for help from the police, but after many attacks on members of the congregation [including when they privately meet for worship at each other's homes], we see that the police are also involved in this."
Members of GKI Yasmin and HKBP churches regularly hold the Sunday service at a plaza in the blazing sun, near the presidential palace to protest government inaction to restore the churches, which were closed down, even though they were registered. Five years ago, the Supreme Court had ordered the GKI church building to reopen, but the city mayor refused to let it open and sealed it off.
The congregation of the churches sitting on the roadside often gets attacked by Muslim mob, but Christians have persisted in the peaceful protest against illegal closure of church buildings.
"We are doing more than just getting our church building. This is our attempt to keep Indonesia a country for all. Indonesia is not a country based on any one religion," Bona Sigalingging, a regular church attendant, told the Global Post.