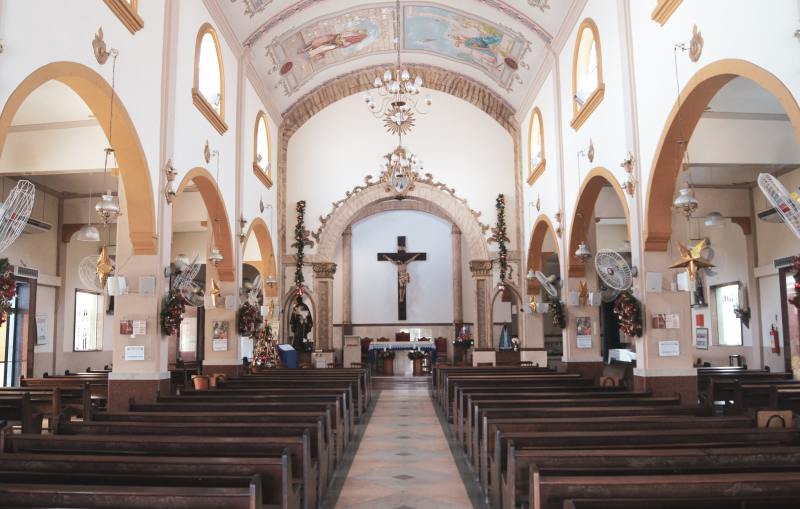 After nearly two decades, St. Faustina Catholic Church finally got a church building. The church has moved from four locations, now, they finally have a place to call "home." It is located at 15551 N Boggy Marsh Rd, Clermont, FL.
Church Building of St. Faustina
According to Florida Catholic, when St. Faustina pastor Father Ramón Bolatete was given the keys to the building, his wide grin indicated limitless delight. He reportedly felt happy to finally welcome his parishioners a "home." Since his arrival five years ago, Father Bolatete remarked that parishioners have repeatedly inquired about the timeline for constructing the new building. Finally, on Saturday, Feb. 4, Bishop John Noonan held a dedication ceremony for the new church building of St. Faustina.
 As mentioned, since 2006, many of the "pioneers" of the parish, including a married couple, Monica and Michael Moletteri, have followed St. Faustina patiently. It has moved to four locations: the Westgate Inn, Homer's, an old barbecue restaurant, a strip mall where the church was snuggled between a tattoo business and massage center, and Glenbrook Commons.
Accordingly, Father Bolatete stated that the brand-new building reflects their faith, commitment, and generosity. The church is well equipped to develop and enhance the concepts of prayer, welcome, formation, and outreach, and everyone is delighted about it.
On the other hand, the architecture firm Plunkett Raysich Architects, LLP drew their ideas for the building's design from a church in Poland, the homeland of St. Faustina. The space contains a chapel dedicated to the Divine Mercy with two classrooms and a confessional area.
Also Read:New St. Nicholas Greek Orthodox Church Opened at World Trade Center
The Beginning of St. Faustina Catholic Church 
The story of the St. Faustina Catholic Church can be traced back to a banquet room in a hotel on Route 192 called the Westgate Inn. Thomas Wenski, a former Bishop of the Diocese of Orlando, established the parish in the summer of 2006 in the Four Corners area. The parish celebrated its first-ever mass on Sept. 30, 2006, at 4 p.m. The mass was presided by their founding pastor, Father Stephen Phillips, and there were a total of 65 parishioners present. When Bishop Wenski established St. Faustina Catholic Parish, he noted that the church was the first parish in the United States dedicated after the wonderful saint Faustina Kowalska. Since then, the parish has been named after Faustina.
After three months, they outgrew Westgate and went to Homer's, a former barbeque pit restaurant. The parishioners called it "Saint Homers," but Father Steve called it "The Church of Holy Smokes." It was hard labor to make the location fit for worship. Several parishioners showed outstanding stewardship by using their time, talents, and resources to make it their second home. Scrubbing thick cooking oil off walls and floors were among the jobs that people worked all day with their tools, paintbrushes, and carpentry supplies. On Dec. 24, 2006, Father Steve led the site's first mass.
After four years, they moved to a strip mall called Zacs without Father Steve. In February 2009, Father Jean Desirs took his first position as pastor and became their spiritual leader. However, after five years, they decided to move to a more prominent location. The parish decided to go back to highway 27 at Glenbrook Commons. The first mass was held on Dec. 19, 2020, and after almost two years, their current pastor, Father Ramon Bolatete, came.
Furthermore, on Saturday, Feb. 4, 2023, at 10 a.m., Bishop John Noonan celebrated the first mass at St. Faustina's "home." God blessed them with a brand-new church building and a permanent home at 15541 N. Boggy Marsh Road after an almost 17-year journey.
Related Article:Pope Francis Appointed First Auxiliary Bishop of El Paso Catholic Diocese
A blessing of a new church is always a moving experience. Congratulations to St. Faustina Catholic Church and welcome to your new home!

Thank you for trusting us as your design partner.#churchblessing#clermontFL#florida#thankyou#designpic.twitter.com/bUdqjPzzaL

— Plunkett Raysich (@PRAtweets) February 7, 2023