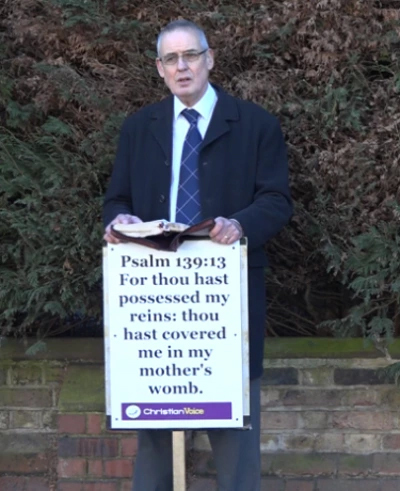 Stephen Green, a 72-year-old Christian preacher from South Wales, faces potential imprisonment for holding a Bible verse sign within a designated "buffer zone" outside an abortion clinic in Ealing, West London.
The Public Spaces Protection Order (PSPO), intended "to make sure that everyone can use and enjoy public spaces, safe from anti-social behaviour," prohibits activities including prayer, protest and expressing about abortion service. The clinic, managed by MSI Reproductive Choices, was among the first in the UK to be put in place by the Ealing Council in April 2018.
"For thou hast possessed my reins: thou hast covered me in my mother's womb," Psalm 139:13 was the Bible verse on Green's sign.
Ealing Council initiated legal action against Green under section 67 of the Anti-Social Behaviour, Crime and Policing Act 2014. If convicted, he could face up to six months in prison and a fine exceeding £1,000 (approx. $1,200). Green recently appeared at the Uxbridge Magistrates' Court, West London. p
"I see this prosecution as an attack on the Bible and free speech. I am determined to defend myself and fight for justice," said Green, who leads the Christian Voice campaign group.
Green argues that limiting the ability to display a religious message in a public space infringes upon everyone's freedom.
Andrea Williams, the CEO of the Christian Legal Centre, criticized buffer zones as elements of a suppressive cultural trend that enforces compliance and stifles dissent. She contended that the PSPO effectively criminalizes any expression of disapproval towards abortion and creates an area where discussions or prayers about abortion are forbidden.
"There have now been over 10 million abortions in the U.K. since abortion was legalized in 1967. That is almost twice the population of Scotland and more than the entire population of London," she highlighted the staggering number of abortions, expressing her backing for Stephen Green on behalf of the Christian Legal Centre.