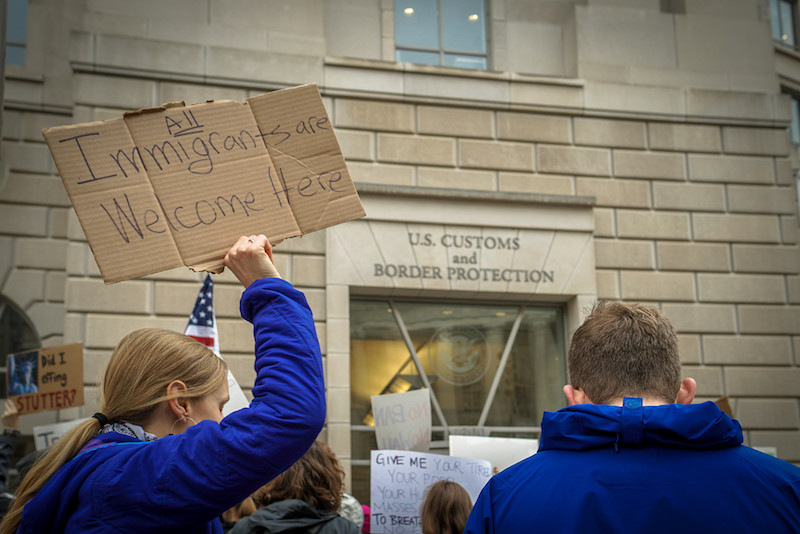 For those in the immigrant community, the numerous reports of raids by enforcement officials may give rise to a greater sense of fear. But immigrant rights advocates say there are still actions that individuals can take in response to, and in preparation for, such encounters.
During a national press call hosted by New America Media on July 11, Grisel Ruiz, staff attorney at the Immigrant Legal Resource Center, said that "there are certain constitutional rights that we still have that immigrants can rely on, and that they have regardless of immigrant status." For example, immigrants have the right to remain silent and to not allow Immigration and Customs Enforcement (ICE) agents into their homes and properties, she said.
Ruiz emphasized the importance of asking for a judicial warrant during these situations, and added that the enforcement officials "rarely" possess warrants. She also advised those who encounter immigration officials to "never sign anything without speaking to an immigration attorney."
Likewise, advocates on the press call added that "employers also have rights" that they should exercise if immigration officials come to the workplace.
"So long as the workplace is private property, the ICE agents also must have a judicial warrant," said Ruiz.
Employers can be intimidated when faced with these encounters, often leading them to follow the authorities without questioning, advocates said. However, Michael Young, a legislative advocate for the California Labor Federation, said they should be "asking for a subpoena before providing any private information," since this information may put not only the worker but also their family members at risk.
Besides employers, even everyday people that witness an ICE activity can take action, Ruiz added. The first step that bystanders can take, according to Ruiz, is to contact a local nonprofit to make sure it is not false information and that an ICE activity is actually happening. Bystanders can also document the incident by taking a video, and collect as much information as they can about the situation.
Advocates added that those in the immigrant community can take precautionary measures to ensure the safety of their assets and belongings. Mohan Kanungo, director of programs & engagement at Mission Asset Fund, encouraged individuals to become more educated on "how to protect your money, how to protect your belongings, and creating and emergency plan."
"Immigration related emergencies can have a significant impact on pocketbooks," said Kanungo.
For instance, Kanungo said, the national average cost of a bail bond is about $10,000. In addition, having legal representation during these bond hearings can average anywhere from $3-5,000. Transfer of guardianship is about $2-4,000, and on top of these already high expenses, individuals involved in this process have other monthly bill payments to consider as well.
Kanungo encouraged those in the immigrant community who seek to plan ahead in regards to their assets by taking advantage of seminars and other resources made available by nonprofits like Mission Asset Fund that can help them learn more on how to do so.
Meanwhile, Cal Soto, the national workers rights coordinator at the National Day Labor Organizing Network (NDLON), said he and others at NDLON have witnessed an increase in violence due to the rhetoric surrounding immigration since the recent elections. He said there is "a normalization of violence across the board" within communities after the election, and added that workers have reported more frequent and public occurrences of hate crimes. With the increase of enforcement on the ground, fear of deportation is heightened for undocumented immigrants within the community, he added.
Approximately 2.6 million undocumented immigrants reside in California alone, according to statistics provided by the Center for Migration Studies in 2014.