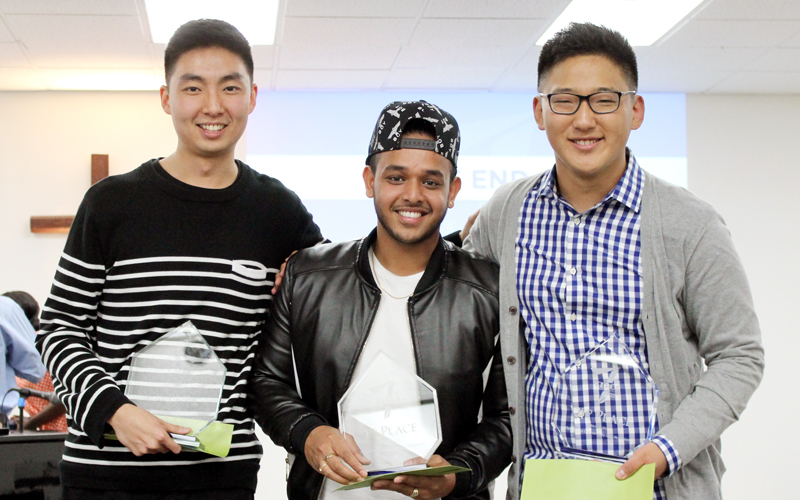 Los Angeles City College's Kerygma Bible Study (KBS) club teamed up with Los Angeles-based churches Yewon LA and Maga Church to award four college students with scholarships at the 7th Annual El Roi Singing Contest on Saturday, May 9. The contest allows students to apply free of charge, gives them a platform to display their talents, and invites their family members to watch. Eleven contestants participated in the live singing competition at Maga Church in Los Angeles, California.
Exactly 22 people submitted applications for the 2015 El Roi Singing Contest. A panel of four cut down the submissions by half, resulting in eleven contestants. The eleven participants of the contest were Adriana Bachmeir, Zachary Kim, Quelnick Hoff-Ben, Maria Zapata, Leon Zaigirdar, Raymond Ahn, Yuri Yang, Luna Achiary, David Kang, Hakob Babayan, and Maria Hwang. Fuller Theological Seminary students Stefany Bremer, Analisse Reyes, and Garrett Stier were the three judges of the event.
The night began with a sermon by Kenneth Chang, the young adult pastor at Yewon LA. Chang spoke to the crowd about Jesus Christ, who brings dead relationships, families, and communities back to life. He closed the message by encouraging attendees to ask any questions they may have about the Christian faith to the church representatives who were present at the contest, and added that individuals who "seek to serve and not be served, would change the world."
KBS sought out diversity in planning the El Roi Singing Contest with a heart to represent Los Angeles' Latino, African American, Caucasian, Korean, and Middle-Eastern population. In previous years, the contest reflected a majority of Korean audience members and contestants. Due to efforts made by all KBS volunteers, the 7th event proved to be very diverse. The purpose of the contest is to share the Gospel and to love neighbors within the community in a practical way.
"It's about supporting the community as a whole. This year, we really reached out to as many non-Koreans as possible," said Chang. "We just wanted to be as representative of Los Angeles as possible."
Leon Zaigirdar won first place for singing one of his favorite songs, "Just Friends" by Amy Winehouse. Zaigirdar is a college student at Santa Monica College. He is transferring to University of California, Berkeley next semester to major in mass communications. He said that he will use the prize money to purchase new recording equipment. Zaigirdar was born in South Carolina and spent his childhood in England. He began songwriting in his teenage years and moved to Los Angeles to pursue a professional music career.
"I've been singing since I was about five or six in church. As I was growing older, I just got more and more involved in music and my mom is a singing teacher so I've always had that influence," said Zaigirdar in an interview with Christianity Daily. "There was so much talent out there. Anyone could have grabbed it. I'm just really grateful that the judges picked me."
Zaigirdar received a $700 scholarship. He also received a glass trophy, as did all winners. Raymond Ahn, the second place winner won $500 for singing "I Can't Make You Love Me" by Bonnie Raitt. David Kang, the third place winner received $300 for singing "Englishman in New York" by Sting. Zachary Kim received $100 and the Audience Choice Award for singing "The Altar of Love" by Downhere.
"This world is kind of self-centered. As we share this "¦ faith, this community gets better and better," said Jin Bae, pastor of KBS and New Life Oasis Church.
KBS is a chartered Christian club that meets every Thursday afternoon at Los Angeles City College. It has hosted the El Roi Singing contest for the past seven years. "El Roi" is a Hebrew phrase from the Bible in Genesis 16:13. It translates in English to "God who sees me." The sponsors of the event are Cuckoo K.E.Y. Company, ClickHM, 2000 Printing, SIWY, Yewon LA, LIFE Basics Magazine, Maga Church, and KBS.