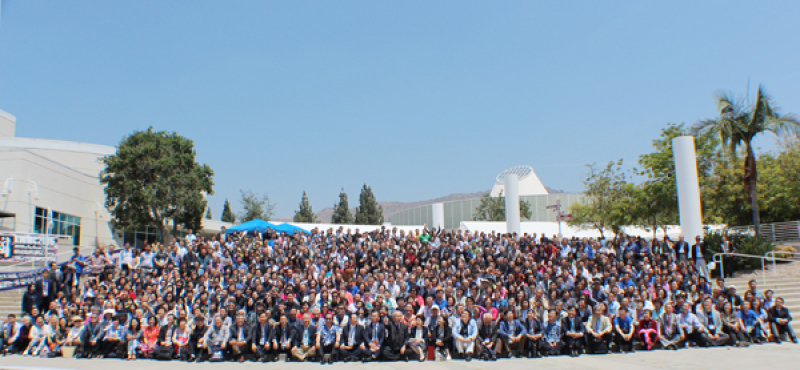 The most recent study released by the Korean World Mission Association (KWMA) found that over 27,000 Korean missionaries are ministering all over the world, setting the record for the highest number of missionaries since the group first began conducting this annual study in 2006.
The study was conducted for one month in December of 2015 through 234 mission organizations and denominations, and found that 27,205 missionaries were sent out in the year of 2015 to 171 different countries, an increase from 2014 (26,677 missionaries).
This study was released to attendees of this year's Korean World Mission Conference, which is taking place from June 6 to 10 at Azusa Pacific University. Attendees and speakers at the conference celebrated this continual increase and record high number of missionaries.
"In 1971, the first time I was in Seoul, God was telling me, 'Korea's going to be a great missionary-sending nation,'" Loren Cunningham, the founder of Youth With a Mission, said during the first night of the conference. "And since then, God has been raising you up, and today we're celebrating 27,000 missionaries being sent out all over the world. That makes you the number two mission-sending nation."
Though the number of missionaries sent in 2015 was the highest yet, the increase in the number of missionaries between 2014 and 2015 was the smallest since 2006. Every year since 2006 saw an increase of more than 1,100 missionaries, but in 2014, that number dropped to an increase of 932 missionaries, and this year, 528.
Most Korean missionaries can be found ministering in Asian countries, the study also found. In 2015, 6,430 missionaries were sent to Northeast Asian countries, and 5,575 missionaries were sent out to Southeast Asian countries.
Northeast Asia, the U.S., the Philippines, Japan, India, Thailand, Southeast Asia, Cambodia, and Russia were among the ten countries to which the most Korean missionaries were sent in 2015.
"More than 50 percent of Korean missionaries are focused in these areas," the study states referring to the top ten countries, "but this illustrates that the Korean missionary community views these countries as strategic mission fields."
Church planting (11,095 missionaries) and discipleship training (8,973 missionaries) are two types of ministries that most Korean missionaries are engaged in, while culture/sports (552 missionaries) and children/youth ministries (490 missionaries) are two with which Korean missionaries are least engaged.
"This report of Korean missionaries' main ministries can only be seen as a general outlook," the study states. "A distinctive characteristic of Korean missionaries is that one person takes on many different ministries, so they only report their primary ministries back to their respective organization's headquarters. In that sense, this number count of the types of ministries Korean missionaries are engaged in sheds light on the ministry trends of Korean missionaries."
Meanwhile, the Korean World Mission Conference takes place once every four years, and is known to be one of the largest gatherings of Korean missionaries.