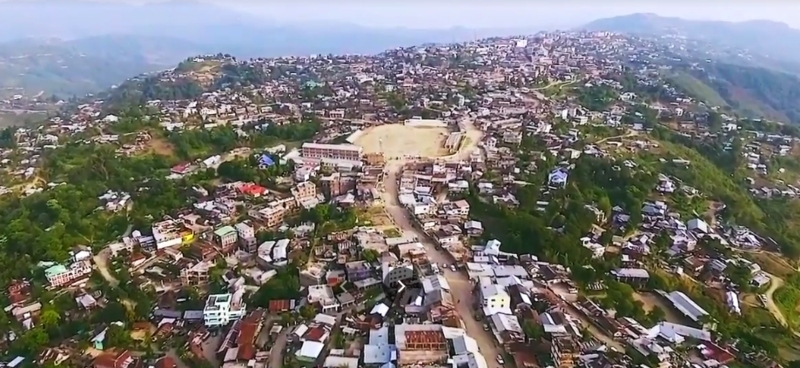 Since half a year ago, Manipur has been thrown into turmoil by riots between rival ethnic groups, the Meitei and the Kuki, leaving the city's residents in chaos and tragedy. Nemnian Vaiphei, a spirited 77-year-old grandmother and widow from India, was no exception to this upheaval.
Caught in the crossfire between the primarily Hindu Meitei and the Christian Kuki, she couldn't return to her village near Imphal, a Manipur city that had become a sanctuary for the fleeing Kuki. In a cruel twist, Nemniang became a refugee in her own land.
Upon getting wind of her predicament, Nemniang's 25-year-old grandson was dispatched to be her companion on the journey to safety in Aizawl, one of the nearest cities. Despite the relatively short distance of around 300 miles separating Manipur and Aizwal, the passage spanned at least 18 hours. Today, Nemniang resides in government-provided apartments in Edenthar, a locale about 30 minutes from Aizwal, accessible only by winding mountain roads.
"Since I'm confident that God's watching over me, I am content. Even though many are facing challenges finding a place to stay, I feel quite at ease here," she shared.
Numerous Kuki-Christian families, displaced by the conflict, have found refuge in similar low-budget apartments recently built under the Basic Services to Urban Poor (BSUP) program, aimed at aiding impoverished residents on the outskirts of Aizawl.
This bitter ethnic strife has claimed nearly 200 lives and uprooted over 70,000 Manipuri Indians. Of them, over 60,000 are Kuki Christians who were compelled to leave their native lands, especially those residing in Imphal Valley.
The region, predominantly inhabited by ethnic Meiteis, most of whom adhere to Hinduism, witnessed the exodus of many Kuki individuals as their homes and communities fell victim to riots and destructive arson.
"Every member of my family is scattered, facing their own trials. I first of all give all thanks to God for his care towards my large family. Currently, my son is unable to resume work in Imphal and not receiving his wage. Still, I'm full of gratitude."
The painful memories of a mentally ill woman, left behind in their village during the evacuation, continue to haunt Nemniang. "A woman who has a mental illness died of the fire. It's tragic to hear but I'm sure that it will all be remembered from above by the One who has possession over all things."