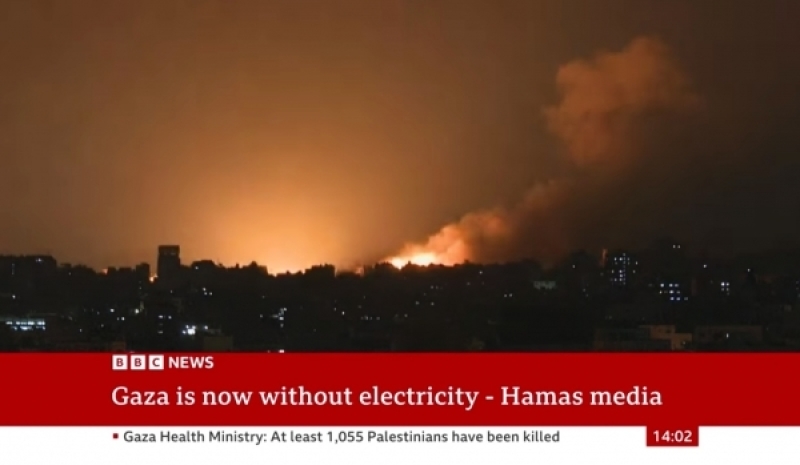 Gaza's only power plant has ceased operations due to a fuel shortage, casting the region into darkness amid escalating tensions with Israel. "Gaza is currently without power," said Galal Ismail, the Gaza authority. 
As military forces gather at the border, the United States is actively involved in discussions to establish an aid corridor for Gaza's civilians, amid a sharp increase in casualties on both sides.
This comes in the wake of Israel's decision to initiate a "complete siege" of the Palestinian enclave, severely limiting access to essential resources including electricity, fuel and food. The unprecedented attack by Hamas on Israel, resulting in over 1,200 casualties, has further worsened the situation.
Over 2 million residents in the Gaza Strip face a sudden crisis, as they are now relying on generators for electricity. However, due to the border closures, this alternative is becoming increasingly unsustainable. 
The situation is exacerbated by the imminent depletion of fuel in hospitals, a development predicted to lead to catastrophic conditions. Israeli airstrikes have struck the densely populated Gaza Strip. At least 1,000 were killed, with thousands more wounded, as reported by the health ministry. 
The United Nations Office for Coordination of Humanitarian Affairs reports that over 236,000 Gazans have been displaced; numbers expected to rise. 
In tandem, the U.S. has dispatched the first shipment of weaponry to support Israel's military efforts. 
U.S. National Security Adviser Jake Sullivan has confirmed active discussions with Israel and Egypt regarding the establishment of a humanitarian passage for Gaza's civilian population. 
Additionally, Secretary of State Antony Blinken who recently departed from the U.S., is scheduled to arrive in Israel this week, an action characterized by a spokesperson from the State Department as a demonstration of unity and unwavering support.
The United Nations World Health Organization warned that seven hospitals have already depleted their supplies, with additional facilities facing imminent shortages.
Tragically, nine U.N. personnel have lost their lives in airstrikes since the onset of hostilities, with nearly 175,500 internally displaced individuals seeking refuge in UNRWA schools across Gaza. This number is poised to rise as airstrikes persist, causing collateral and direct damage to numerous UNRWA facilities.
President Joe Biden confirmed the abduction of U.S. citizens by Hamas, cautioning against further military involvement to avert a broader regional conflict.
So far, at least 14 Americans have been confirmed deceased, while several remain unaccounted for, according to President Biden.