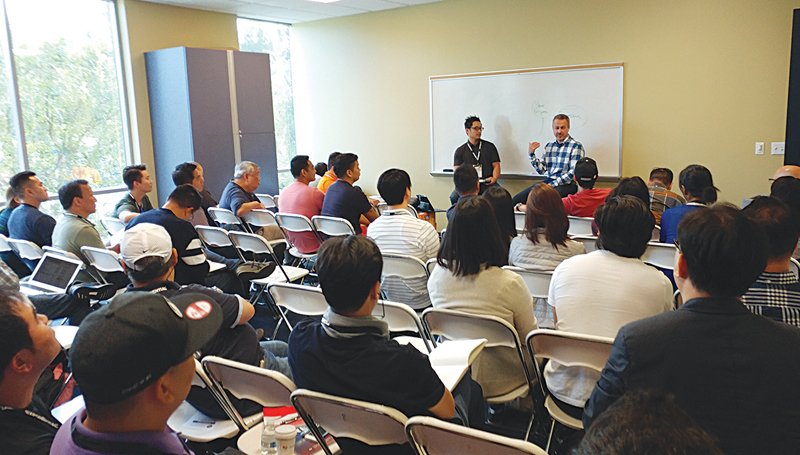 For the first time, a separate gathering for Asian American leaders convened at the Exponential West Conference that began on October 3 at Mariners Church.
The gathering was a pre-conference hosted by the "Thirty Network,' a group that launched in February this year that aims to resource and cultivate Asian American ministry leaders.
"We want to advance Asian American leaders for them to be able to influence the whole church world," said Kevin Nguyen, campus pastor of Saddleback Church Irvine South, and one of the leaders of the Thirty Network. "We want to provide access points like the space we had today to keep leaders inspired."
Bigger conferences like this one are helpful for leaders, but may lack contextualized information, said DJ Chuang, a strategy consultant who is also one of the leaders of the Thirty Network. He said it's important to "have an intimate space to have conversations like this among Asian Americans."
The session, which was split into three parts, featured brief talks with Daniel Im of LifeWay Christian Resources, president of the Exponential Conference Dave Ferguson, and DJ Chuang.
Daniel Im encouraged the pastors to persevere, especially when the realization of a vision seems far away.
"The time between the initiative towards and the realization of a dream is the time when God is going to shape you," Im said. "God is less concerned with our destination, than he is in the journey and in the day to day."
Dave Ferguson shared about his journey of becoming the president of the Exponential Conference, as well as his thoughts on current trends of ministry, among other topics. A generation ago, Ferguson said, many ministry leaders pursued building large congregations. Today, he said the trend is that more people are looking to "be a part of a reproducing or multiplying church," rather than simply a large one.
Ferguson added that he believes much of the leadership of churches and ministries in the future will become more diverse.
"The face of the future looks more like you," he said.
"Being Asian American is not about being a second-class citizen; it's not less, but it's actually more," said DJ Chuang, adding that Asian Americans have unique aspects to offer to the larger community. "The treasure that we have is that inherently, we have the experience of navigating multiple cultures."
Meanwhile, this is the second formal gathering of Asian American leaders hosted by the Thirty Network, following its first official gathering in February. The group plans to host two types of major gatherings on a regular basis: "access point' gatherings at major conferences such as Exponential, and "signature gatherings' during which 30 ministry leaders in their 30s will gather for a 30-hour retreat, to prepare for the next 30 years of ministry.