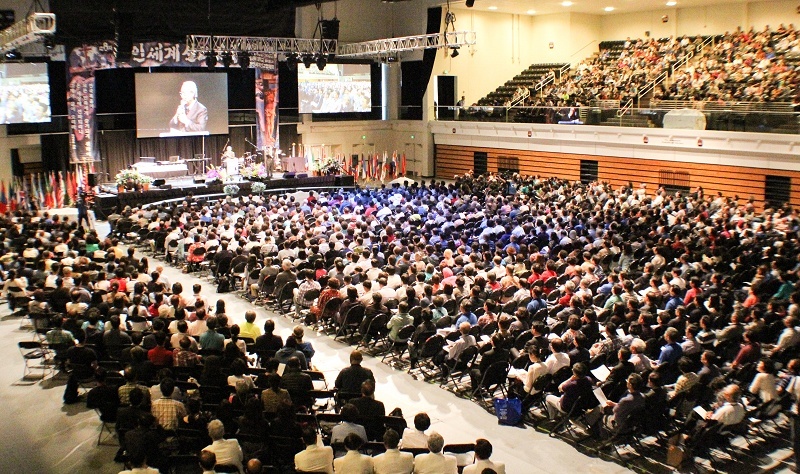 Some 2,500 people, including prominent leaders in both the Korean and American Christian communities, gathered at Azusa Pacific University on Monday to mark the start of the 8th Korean World Mission Conference.
The conference, which takes place once every four years, is usually attended by thousands of Korean missionaries from all over the world and is hosted by some of the largest Korean mission organizations, including Korean World Mission Council for Christ, Korean World Mission Fellowship, Korean World Missions Association, and World Missionary Kids. While it had always taken place at Wheaton College in Illinois, this year, the conference is taking place in Southern California for the first time.
Each conference starts with a procession of missionaries marching down the main session hall with their respective mission fields' national flags. This year, attendees of the conference celebrated a record of having over 27,000 Korean missionaries ministering in some 170 countries.
Jon R. Wallace, the president of Azusa Pacific University, and Mark Labberton, the president of Fuller Theological Seminary gave remarks during the ceremony, both calling it an "honor" that KWMC is taking place in Southern California this year.
Labberton in particular praised the Korean church community's leadership and mentioned Fuller's current search for a new director of its recently formed Korean Studies Center.
Un-Chan Chung, the former Prime Minister of South Korea, also gave remarks, and urged the attendees to "become brilliant missionaries, and take the gospel to the ends of the earth."
"I hope that through those efforts, you will help to lead this world into the right direction," Chung said.
While the conference is geared primarily towards Korean missionaries, it's also open to local church pastors and lay members. Many of the plenary and seminar speakers are English-speakers, and a separate English track is also taking place simultaneously.
Notable speakers include Loren Cunningham, the president and founder of Youth With a Mission; David E. Ross, the founder of YWAM Korea & Antioch Institute for International Ministries; Paul Eshleman, the founder of the JESUS Film Project; Todd Johnson, the director of the Center for the Study of Global Christianity at Gordon-Conwell Theological Seminary; Michael Oh, the executive director of the Lausanne Movement; Min Chung, the founding pastor of Covenant Fellowship Church; and Marilee Pierce Dunker of World Vision International, among others.
The conference will be taking place from June 6 to 10.