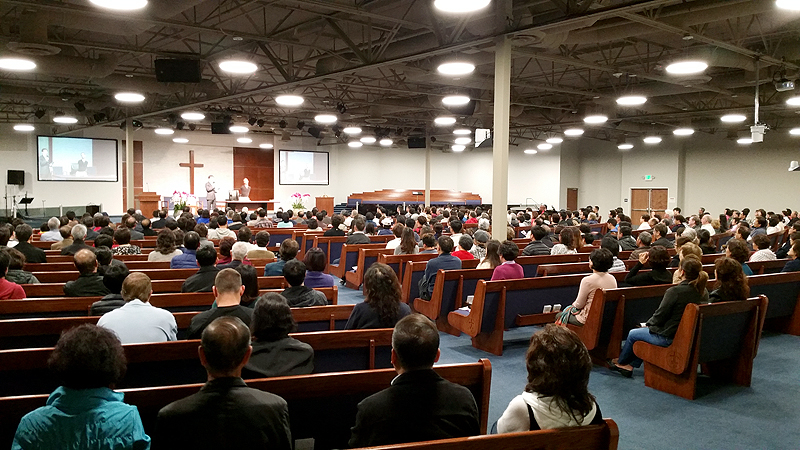 Nick Vujicic, evangelist and author of "Life Without Limbs," prayed together with some 650 Korean Christians early on Saturday morning for revival in Los Angeles.
Referring to the recent events of unrest in Ferguson, Baltimore, and other cities, Vujicic said at the 6 AM prayer meeting, "God has called all of us to pray for revival, because people need Jesus today like never before."
Vujicic, who also prayed with a group of Latino Christians that same morning at 5 AM, has been planning for a concert event to take place on Father's Day (June 21) in Los Angeles called "Unify LA," and have been praying together with these various communities leading up to the event.
"God desires our churches to come together as one," he said, and added that "there's something beautiful in each culture."
As a concert event, Unify LA is will feature music and "messages of hope," but more importantly, the organizers hope that the event will be an opportunity for Angelenos of all backgrounds to unite as one and stand in solidarity. Los Angeles city officials have been invited to participate.
"In light of recent riots in Baltimore ... And remembering the Watts riots 50 years ago this year," the Unify LA marketing director wrote to Los Angeles Mayor Eric Garcetti and the city council, "We decided it would be preemptive to host an event promoting Unity here in Los Angeles."
"You need to be there," the letter continues. "You get to demonstrate that LA is leading the nation by having her people come together in UNITY. You get to show that [you] and your team are proactive, not just reactive to LA. Your presence will make a powerful statement."
Vujicic challenged those at the prayer gathering with Korean Christians to come to the event and stand together as one, and to invite neighbors that are like and unlike themselves, from diverse backgrounds.
"As one church, let us pray, forgive, and strive for righteousness," he said.
Unify LA will take place at the Staples Center from 5 PM, and tickets to the event includes the Sparks game, which starts at 2 PM.