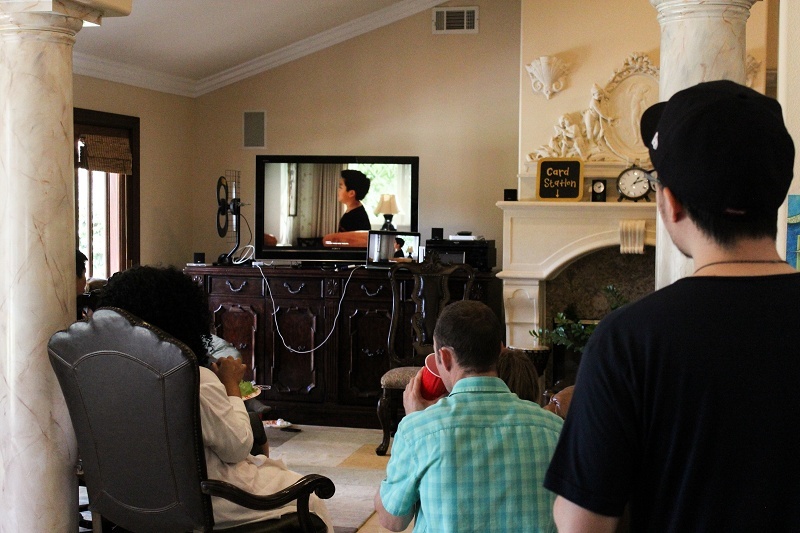 Christian leaders of different ethnicities coming together as speakers in conferences and panels is not so unusual recently. But it isn't as easy to see such leaders""of different ethnicities, different denominations, and different churches""gathering together in a home to cook, eat, and watch TV together.
The Institute of the Study of Asian American Christianity (ISAAC), hosted just such an event on March 7 called, "Together We Cook and View," at which Asian American and African American faith leaders came together and cooked, ate, watched an episode of the ABC series Fresh Off the Boat together, and discussed some of the ways that the show accurately, or inaccurately, portrayed Asian American culture. African American leaders were also able to share their perspectives and what cultural allusions they did or did not understand from the show.
The intimate gathering of about twenty people featured a Korean lunch, with samgyupsal (pork) and galbi (beef), meats which would go into a wrap with lettuce and other vegetables and a Korean dip called ssam-jang.
"So first, you start from here [referring where the vegetables were] and you take the lettuce, cilantro, and whatever you like, and then you put in this dip and the meat afterwards," explained James Cho, at whose home the event was held. "Then you wrap it up and eat it like so," he continued as Young Lee Hertig, the executive director of ISAAC demonstrated.
After some time of eating and mingling together, everyone who was present gathered around the TV in Cho's living room as he started up the viewing of the fourth episode of FOB, which is a story of the Huang family being visited by Jessica Huang's mother and older sister's family. Competition between Jessica and her sister Connie for their mother's approval, and to prove that her own family is living better off, ensues.
"Where does that striving to be successful and to win the parents' approval come from?" Sam Koh, the lead pastor of Hillside LA, asked the rest of the group. Most of the Asian Americans who were present seemed to understand and relate to that striving which was portrayed in this particular episode.
"My first generation parents gave up everything to come here for my success," Koh continued. "And so, when my parents came, this was something that was very important - the best education, the best future. They sacrificed a whole lot not to see their children fail. And being in a shame/honor culture, they put so much value on performance."
Oscar Owens, from the West Angeles Church of God in Christ, expressed that he was unfamiliar with the "hyper-striving to prove success."
"I do identify with the desire to succeed, but it was a little unfamiliar as to why it was so intense," he shared. "I was also unfamiliar with the characterization of the mother as someone who does not show emotion and is hyper-critical." Jessica's mother is shown in this particular episode as cold and difficult to please.
"There are two things that reinforce this striving - the Confucianism in Asian culture, and Western capitalism," responded Young Lee Hertig. "Confucianism's stream becomes manifest in wanting to see success in education, but the American Dream reinforces the idea that if you want to be successful, you've gotta climb up."
There was also discussion on the way that the Asian American family was portrayed. Though most of the Asian Americans agreed that most of the portrayal seemed realistic, some of those in the gathering wondered if it's a good thing to be showing all of the "flaws," or "dirty laundry" as Hertig put it, in mainstream media, such as the way that Jessica Huang's brother-in-law brags about his new sports car when his family, in reality, is in deep debt; or the way that the Jessica Huang made two of her sons sleep in the pantry instead of the couch to hide the fact that their house does not have enough rooms for everyone.
Lita Gaithers Owens, a singer and songwriter, said that getting the story of the Asian American family on mainstream media is a "good step," but, she asked, "Do we want ourselves being portrayed on TV at the expense of not being shown in a positive light?"
Others, in contrast, said that using humor and satire to laugh about these flaws across cultural lines is refreshing.
"I liked that they [the Huangs] weren't shown to be perfect, because it goes against the conception of Asian Americans being the perfect model minority," said Mark Whitlock, who is the lead pastor of Christ Our Redeemer African Methodist Episcopal Church (COR AME).
"I think that self-hatred expressed in a satirical way is genius of this show," Hertig said.
"There's something about laughing at yourself in public""especially since we come from a shame/honor culture," Hertig continued. "Shame no longer has power over you if you break the silence. As long as you keep silent, then shame only grows bigger and bigger. I'm very excited about this [show] in that sense, the fact that we can hang our laundry in public and say, let's laugh together. Not just us, in Korean, Chinese, or Japanese TV, but in the mainstream networks. In that sense, the fact that Asian American stories acted by Asian Americans being shown in a mainstream channel is deeply empowering. It fills that void of our voice."
ISAAC has hosted numerous events in the past to empower the Asian American faith community, including symposia which bring together the academic and spiritual aspects of culture and faith. Last November, ISAAC hosted a bilateral symposium for the first time, inviting African American faith leaders to join in the conversation, and since then, has hosted more follow-up events in partnership with African American faith leaders such as the recent "Together We Can Breathe" event on January 31.