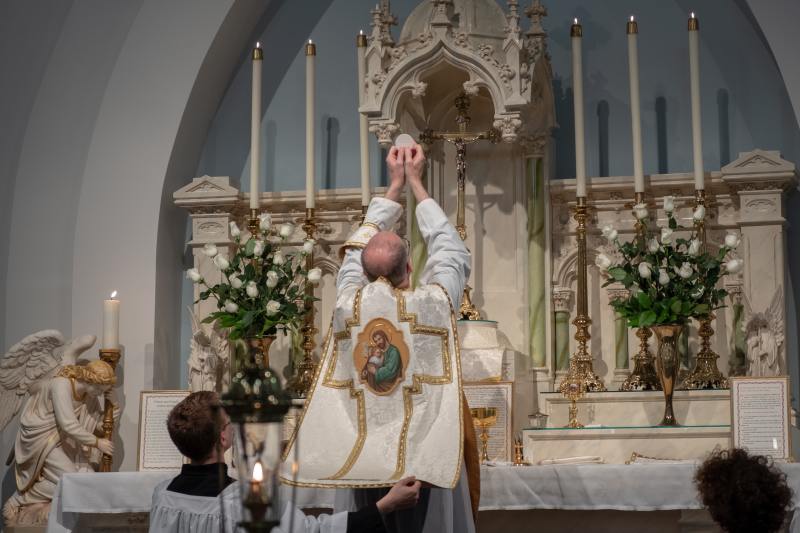 Rev. Dr. Matthew Porter is currently the vicar of St Michael-le-Belfrey. It was announced that Rev. Porter would be the new Bishop of Boston following the retirement of Rt Revd Mark Ashcroft last February.
Revd Dr. Matthew Porter, As Bishop of Bolton 
On Wednesday morning of Mar. 15, Rev. Dr. Matthew Porter was presented to the congregation of the Manchester Diocese at St. Philip's, located in Salford. He expressed that the news of his appointment made him feel "humbled and thrilled." According to the Church Times, Rev. Porter was "excited to be the lead bishop in mission, growth, and church-planting, and looking forward to serving the people and Church of such a fantastic part of the north."
Rev. Porter, now 53 years old, received his priesthood ordination in 1997. After holding the position of Rector at Christ Church, Dore, in the diocese of Sheffield, he became the Vicar of St. Chad's, Woodseats, where he remained until 2009. Since 2010, he has served as the Vicar of St. Michael-le-Belfrey, a resource church also involved in church planting. The previous year, the Asbury Theological Seminary in the United States in Kentucky granted him the Doctor of Ministry in church planting. 
Moreover, additional information from the Manchester Evening News stated that in June, Rev. Porter would be ordained as the seventh and succeeding Bishop of Bolton at York Minster. He will replace Rt. Rev. Mark Ashcroft who recently stepped down as Bishop of Bolton after serving for several years. The Bolton News reported that aside from being a Bishop of Bolton, Rt. Rev. Ashcroft has also served as Archdeacon of Manchester, Area Dean of North Manchester, and Rector of St. Stephen and Christ Church Harpurhey.
As mentioned, the 68-year-old man would not be quitting the ministry entirely; instead, he would resign as Bishop of Bolton and relocate outside the borough. "I have been Bishop of Bolton since 2016 but first came to Greater Manchester in 1982. I have enjoyed working and serving in the area because it is a great place to live, and I have had some wonderful colleagues," Rt. Rev. Ashcroft stated.
Also Read:Global Methodist Church Welcomes Scott Jones as New Bishop
Response of Some Church Members on the Announcement of the New Bishop of Boston
As per the Diocese of York, Bishop of Manchester, Rt. Rev. Prof. David Walker expressed his satisfaction at the appointment of Matthew Porter as the new Bishop of Bolton, saying that he is thrilled that Rev. Dr. Matthew Porter will be the next Bishop of Bolton. Manchester's retired bishop also stated that Rev. Porter would continue on the work done over the past few years, further enhancing their capabilities and enthusiasm for mission, not only in the archdeaconries of Bolton and Salford but also throughout the more comprehensive diocese.
Accordingly, Rev. Porter provides them with a personal experience of parish life and unique gifts in allowing church planting and expansion. Due to his unwavering dedication to God's work in this part of the world, he will be an invaluable resource in the Manchester Diocese and throughout the Northern Province.
On the other hand, Archbishop of York, Stephen Cottrell, noted that St. Michael-le-Belfrey parish in York has grown from strength to strength under his guiding hand. In particular, they have established a solid and innovative cooperation with the diocese to enhance parish revitalization. As the Bishop of Bolton and a member of the leadership group for the Manchester Diocese, he would reportedly serve as a knowledgeable leader and educator. "We will miss him in York," the archbishop added.
Related Article: Rev. Carlos J. Perez Formally Welcomed As New Pastor at First Christian Church of DeLand
The next Suffragan Bishop of Bolton in Manchester diocese is to be the Revd Dr Matthew Porter, Vicar of St Michael-le-Belfrey, York, it was announced on Wednesday. He will succeed the Rt Revd Mark Ashcroft, who retired last month https://t.co/6EbijKaV2L

— Church Times (@ChurchTimes) March 17, 2023