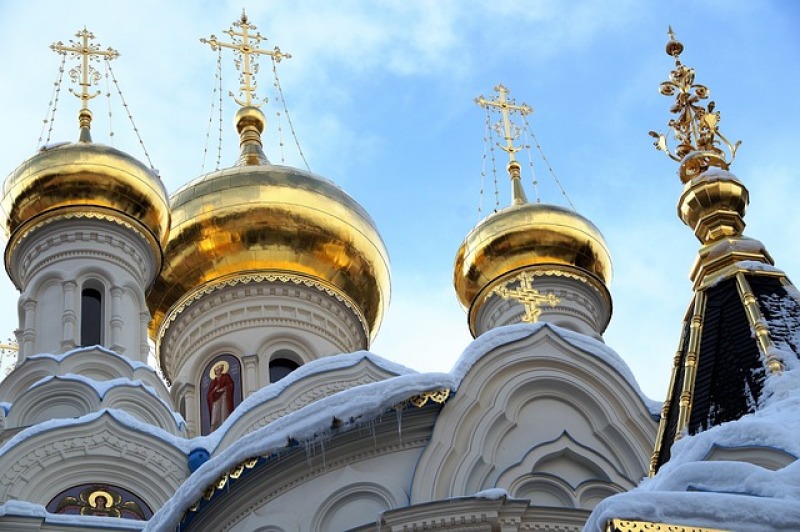 A notice of suspicion of war propaganda and glorification of the Russian army was served to a priest blogger of the Russian Orthodox Church. According to the authorities, Archpriest Andrii Tkachov, a Lviv native, actively spread pro-Kremlin narratives through the media questioning Ukrainian Statehood's existence.
In 2022, when Russia invaded fully, he escaped to Moscow and openly backed the Russian occupiers.
The Advocation of Violence Against Ukrainians
According to Yahoo! News, Tkachov, a Moscow cleric, has been documented in his comments suggesting that the Russian projectiles of the troops must have religious inscriptions. He regularly appears on outlets supporting the Kremlin, defending its war crimes. According to law enforcement officials, the results of the suspect's unlawful behavior have been entirely confirmed by forensic analysis.
The aggression of Russia against Ukraine has been ongoing for almost eight long years, with a group of people that strongly supports Russian imperialist policies in Ukraine. According to UAPC, these groups include politicians and religious leaders that consist of the clergy.
Tkachov is one example, and one Archbishop, Taras Petranuk. These archbishops have been in support of the aggression of the Russian army against Ukraine. Petranuk is hiding in Ternopil on Ruska Street 22 as part of the Orthodox Church of Ukraine. It is a national treason and a crime against Ukraine and its people to support Russian aggression in that country. While the Petranuk brothers and other wolves in sheep's clothing threaten national security, Ukrainian priests nonetheless play a significant role in promoting national unity and defending national interests. Actions must be taken to guarantee Ukraine's national security and protect its territorial integrity.
An extract from Archpriest Andriy Tkachov's sermon that has gained popularity on social media underscores the value of prayer in combat. He quotes Suvorov when he claims that one must pray to draw a sword, load a gun, and triumph in battle. Tkachov adds that in war, one does not do what one wants but what is essential and that even loading shells takes prayer, likening it to packing a cigarette while saying, "Lord have mercy." The speech has garnered criticism, mainly because Tkachov has previously called for the murder of civilians in Ukraine.
Also Read: Pope Francis Declares Global Conflict As 'Third World War' In Christmas Message
Recent Updates on Ukraine War
According to recent reports, Richard Branson has joined United 24, a fundraising initiative started by Ukrainian President Volodymyr Zelenskyy to gather funds for Ukraine. According to Sky News, the businessman joined Star Wars star Mark Hamill as project ambassador during his visit to Kyiv to discuss the specifics of his collaboration with United 24.
Virgin Unite expressed their happiness that Branson has joined the U24 ambassador program in a statement following their meeting with Zelenskyy in Kyiv. Andriy Yermak, the head of the Ukrainian president's office, greeted Branson as an ambassador.
According to the UN, a hospital in Kherson was attacked by Russia, and in the same area, an ambulance was also damaged, resulting in two injuries to medical personnel. This occurs amid an ongoing battle in Ukraine, where medical personnel and facilities have been hit. Considering that 70% of all attacks on healthcare professionals and facilities last year occurred in Ukraine, the UN spokeswoman raised concern about the war's effects on them. The UN emphasized the significance of safeguarding medical personnel and facilities in accordance with international humanitarian law.
Related Article: Monks, Worshippers at Ukrainian Orthodox Church Decline Government's Order to Leave Kyiv Monaster